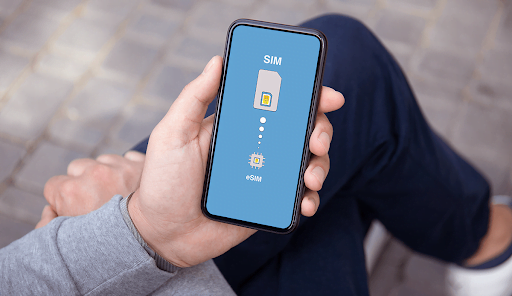 An eSIM or an Embedded SIM is a SIM card installed on your device (generally, your mobile phone), replacing the need for a physical SIM card. Many devices that are being manufactured these days come with an embedded SIM, and most smartphone manufacturers will likely make the change to incorporate eSIMs into their devices.
How Does an eSIM Work?
An eSIM is like a microchip inside your phone installed by the manufacturer, on which you can activate any cellular plan from your carrier. The carrier information on your eSIM is rewritable, meaning you can change the information or operator online or just with a simple phone call.
Essentially, an eSIM is carrier-independent and a programmable chip installed in your phone. You can get eSIM, which is mobile and data-based, and just data-based.
Need for an eSIM
With the increased digitalization in all industries, it is crucial to keep up with the times and develop innovations that support growth. When you purchase a physical SIM card, you must spend time choosing the right mobile and data plan, presenting IDs, installing the card, and figuring out how to recharge the phone. eSIMs provide a lot of conveniences, eliminating the need to choose, book, purchase, and activate a physical SIM card, especially for students and frequent travelers.
Let's say you live in student accommodation in Adelaide, and you wish to travel to different cities in Australia; as a student, you would need a good SIM service to navigate around the cities, and eSIMs always promise:
eSIMs always promise :
Affordable Prices
Numerous Data Plans
Stable Connections
High-Speed Data
Strong Mobile Connections on highways and hills
Easy Installation
How to purchase an eSIM?
You can get eSIMs based on your location and carrier, online or in stores. You can find websites like eSIM Australia that collect different data plans.
The process of choosing an eSIM online is easy. You select a data plan, receive a QR code in your email, scan the QR code, and get started with your eSIM journey.
To purchase an eSIM in-store, you must carry all the necessary documentation to the store and scout for plans. It would be preferable for a traveler or an international student to purchase the SIM online from the comfort of your student accommodation in Australia. 
Reasons for you to choose an eSIM
eSIMs always provide the ease of switching networks; if you wish to switch carriers, you can easily do so with an eSIM without purchasing a new physical SIM card. You need not hunt for a physical SIM card if and when you switch carriers.
On an eSIM, you can store up to 5 carriers, which means you can switch networks on the go in any area that may require a different network in case your current one doesn't work. While traveling abroad, you can choose a local mobile provider and save on roaming charges by choosing an eSIM
Due to the new technologies, you are sure to get 4G and 5G coverage on your eSIM
An eSIM took a SIM's circuitry and soldered it directly to a device's board, making it remotely reprogrammable through software. You do not need to scout for pins to open your phone.
Switching between profiles and carriers does not require internet, which is a boon, given that you don't always get internet access all the time.
Some Facts About eSIMs
You can use a physical SIM card, and an eSIM provided your device is dual SIM enabled.
You can have multiple plans on your eSIM, but you can only use one carrier at a time and then label the other numbers under "personal" or "work."
When you switch phones or devices, you can transfer your eSIM to your new device and delete the eSIM from your old device. You may have to pay a fee for the transfer, but that is subject to the device and the carrier.
There is a list of complete devices that currently are eSIM compatible, and you can find that list here.
Choose an eSIM plan of your choice and start your journey towards digitalization today!
Amber and you : AmberStudent is an online student accommodation that helps you secure a home of choice on your study abroad journey. Having served 80 million students (and counting), AmberStudent is your one-stop shop for all your accommodation needs, with great choices like IQ Highbury and IQ Weaver Place. Amber helps with assistance, booking and price match guarantees! Check out their Facebook and Instagram and stay connected!